Russia's foreign ministry has condemned the EU's call for Europe-based airlines to avoid Belarusian airspace, calling it completely irresponsible.
Spokeswoman Maria Zakharova, commenting after Russia had denied entry to two airlines that planned to avoid Belarus, said passenger safety was at risk.
EU leaders had acted after Belarus forced a Ryanair plane to divert and land in the capital, Minsk.
A Belarusian dissident journalist and his girlfriend were then arrested.
Roman Protasevich and Sofia Sapega, who is a Russian citizen, are both in jail. A court on Friday rejected her appeal against a two-month detention.
The UN's civil aviation agency has said it will launch a "fact-finding" investigation into Belarus's actions, and whether there had been any breach of international aviation law.
No reason was given for Moscow's decision to refuse access to flights from Air France and Austrian Airlines, but an Air France spokesperson said Russia's requirement of a "new authorisation" was linked to the airline bypassing Belarusian airspace.
On Friday, Russia's aviation authority allowed entry to several European airlines bypassing Belarus, including Austrian Airlines, although Air France did cancel another Paris-Moscow flight. The aviation agency warned that airlines that changed routes might have to await longer clearance times.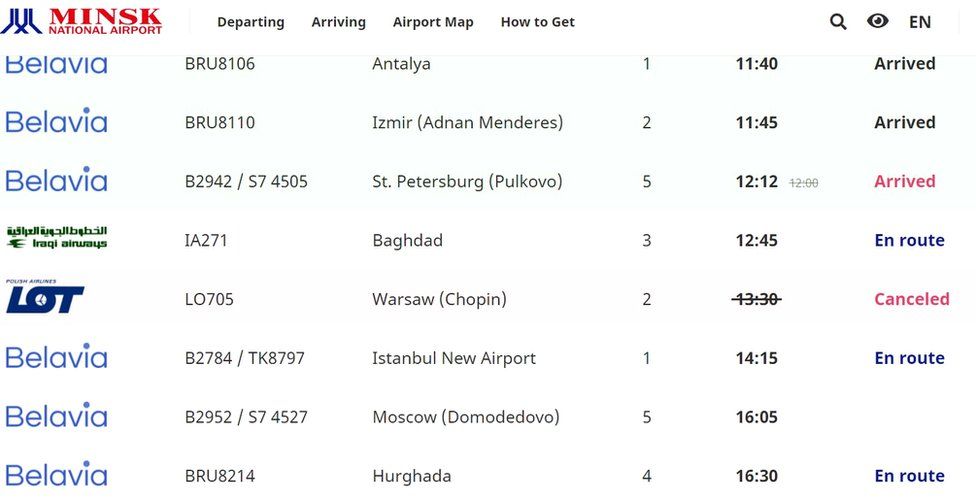 Russia is Belarus's biggest ally and Belarusian leader Alexander Lukashenko arrived in the Black Sea resort of Sochi on Friday for talks with President Vladimir Putin.
It is their third meeting this year.